At the beginning of Gengzi Luner New Year, Novel Coronavirus Pneumonia burst out and spread over the entire country at an overwhelming speed. It ruineds our plans for theNew Year. And at the same time, NCP hasdisturbeds the peace of our mind. Under such a serious epidemic situation, the mental health of the students in Ocean University of China hasbecomes our major concern.
During this special period, the Mental Health Education and Counseling Center of Ocean University of Chinaopened the WeChat-background-message-reply function on January 26.Though this platform, full-time counselors in Psychological Center are on duty by turns to listen to those who are depressed, scared, anxious and helpless and provide sincere support for students and teachers suffering from the epidmeic.
How to consult:leaving your message to our WeChat public account.Our counselors will reply to you as soon as possible.
Working Time:8:00~22:00
You can learn from the following picture: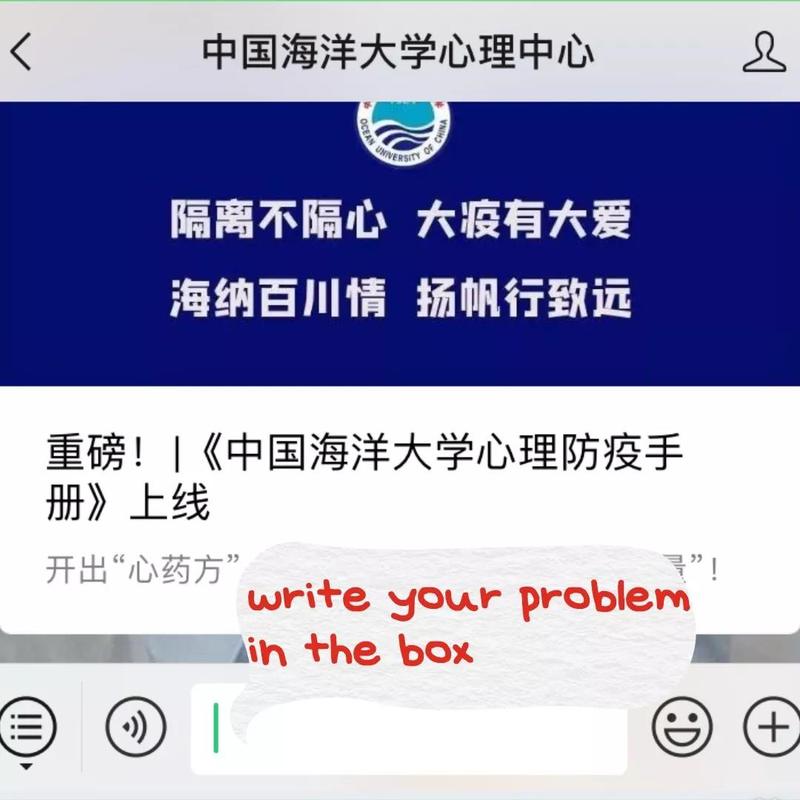 Fears and doubts are caused by the unknown virus source and the uncertainity of the epidemic disease. For example, you may frequently browse real-time reports on your mobile phone to learn more about the rescuing news in the frontline and the speed of the spreading; you may be thrilled just because of a screenshot shared in the Wechat group; you may be too concerned about whether there are suspected cases in your life. Even some symptoms caused by a common cold would make you become suspicious: am I a potential virus carrier?
Being involved in the pain and helplessness caused by the sad events from the epidemicwill also make those pessimists feel that life is too weak and impermanent and thusfall into a negative mood again and again.
You may feel guilty for having no chance to give a hand to those people in the emphasis disease area far away from us, but only being worried in vains.It is probabl to have the thought that "I need to do anything to help them", or even have the idea that "I want to suffer the pain for them". On the controary, some people feel that "I am omnipotent" so I can offer help and I am helpful.
In fact, most of these emotions are normal responses to stress.
According to evolutionary psychology, in the face of environmental challenges and changes, humans have developed many corresponding mechanisms accordingly. When we are in bad time, we are afraid whereas when in good times, we are happy. In other words, we may have short-term fear, insomnia, and panic when we are facing a major incident. It is fear that allows us to become benefit-tending and harm-avoiding, so that human beings can survive.

However, these instinctive responses can also mess up our cognition, which can causes additional psychological stress.
We have some suggestions here for relieving the high-pressure emotions caused by the epidemic:

We should know that emotions and feelings we have are normal responses. We need to accept the normal emotions that come out of stress.These reactions are something that our bodies can do to help us cope with stress. Having them doesn't mean we're vulnerable, wrong, weird or unacceptable.
Figure out the right ways to relieve your bad emotions and make yourself feel comfortable.
You can do some sports like rope skipping, yoga, and aerobics, watch emotion soothing videos likehealing animations, TV shows or dosomething like reading, listening tomusic, meditation, etc.
In addition, it is found that talking about our anxiety with friends is a very effective way to relieve stress.
Try to restore the function of self-thinking and discrimination, and selectively receive the current information.Reduce the psychological burden caused by overload information——In fixed time of everyday, you can look at the authoritative information published by several reliable platforms. More importantly, do not browse messages aimlessly and make sure you choose your own channels.
Take care of your emotions.I hope you know how to forgive yourself for powerlessness and protect your boundaries. Because you have to take care of yourself before you can take care of others.
Finally, I still want to remind that we all shall try not to go out andremember to wear masks, wash your hands and disinfect your belongings frequently, and take proper precautions. At the same time, I believe you can do a good job in taking care of your own mental state in time.
If you have been in serious emotional or psychological status, make sure to seek help in time.
In such difficult time, Xiao Haixin(Ocean University of China)is here with you !
If you feel distressed or bothered cannot adjust your mood by yourself, please call the24-hour free mental health counseling hotline 010-81400101 for help.

You can also callShang Hai Mental Health Center at 021-12320, extension 5.They provide service from 8:00 to 22:00 everyday.
Foreign Affairs Office of Qingdao Municipal Government has launched 24-hour free hotlines for inquiry about prevention and control of pneumonia caused by COVID-19.Please call the following numbers should you need any help.
(The contents partly came from articles published in those Wechat platforms :Jian Dan Xin Li and Jing Shi Zai Xian)